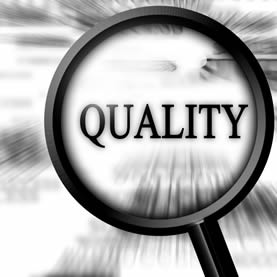 "Quality is not an act. It's by habit".
Sri Ramadas Paper has carved a name and niche for itself in the market for the two decades mainly due to the Quality of its products. At Ramadas, Quality is always the Top Priority and is given utmost importance, even if higher input costs are involved. We believe in 'Total Customer Satisfaction' i.e. satisfaction of customer with respect to quality of product, adherence to dispatch schedule and quality of service. Strong emphasis is given to the above and we strive to achieve the best for total satisfaction of our customers, which in turn increases the company's growth rate. That is how we have always earned/retained the reputation and goodwill of a large number of valuable customers.
At Ramadas, the Quality system is based on a systematic approach to achieve our objectives.
The Quality system followed at Sri Ramadas Paper Boards involves the following:
Inspection of Incoming raw material, chemicals and other inputs to match the prescribed specifications and accept them only if they are within the norms.
Control of Manufacturing Process by monitoring all process variables and parameters in regular intervals round the clock and informing the concerned personnel of any deviation for rectification of the same.
Inspection of Finished product by drawing samples from all parent rolls and rolls meeting the specifications are cleared for packing.
Research & Development work in house on a regular basis to improve the manufacturing process & quality of products, and to develop new products based on market conditions and customer requirements/feedback.
Inculcate Quality Awareness and its importance among employees of all levels and impart training at regular intervals to enhance their performance and skills.